*Please visit Nohi bus company's website and book a tour.
If you request this tour without the transportation, please ask us via the inquiry page>>
inquiry
Our two-hour snowshoe tour, conducted in a spectacular forested area at an altitude of 1,300 meters, takes you through the softest powder snow in Hida. The natural wonders of the northern Japanese Alps are at your feet, with the tracks of animals like rabbits and antelopes mingling seamlessly with your own. This may be a journey for all seasons, but is best done on snowshoe for a unique winter experience. Beginners welcome!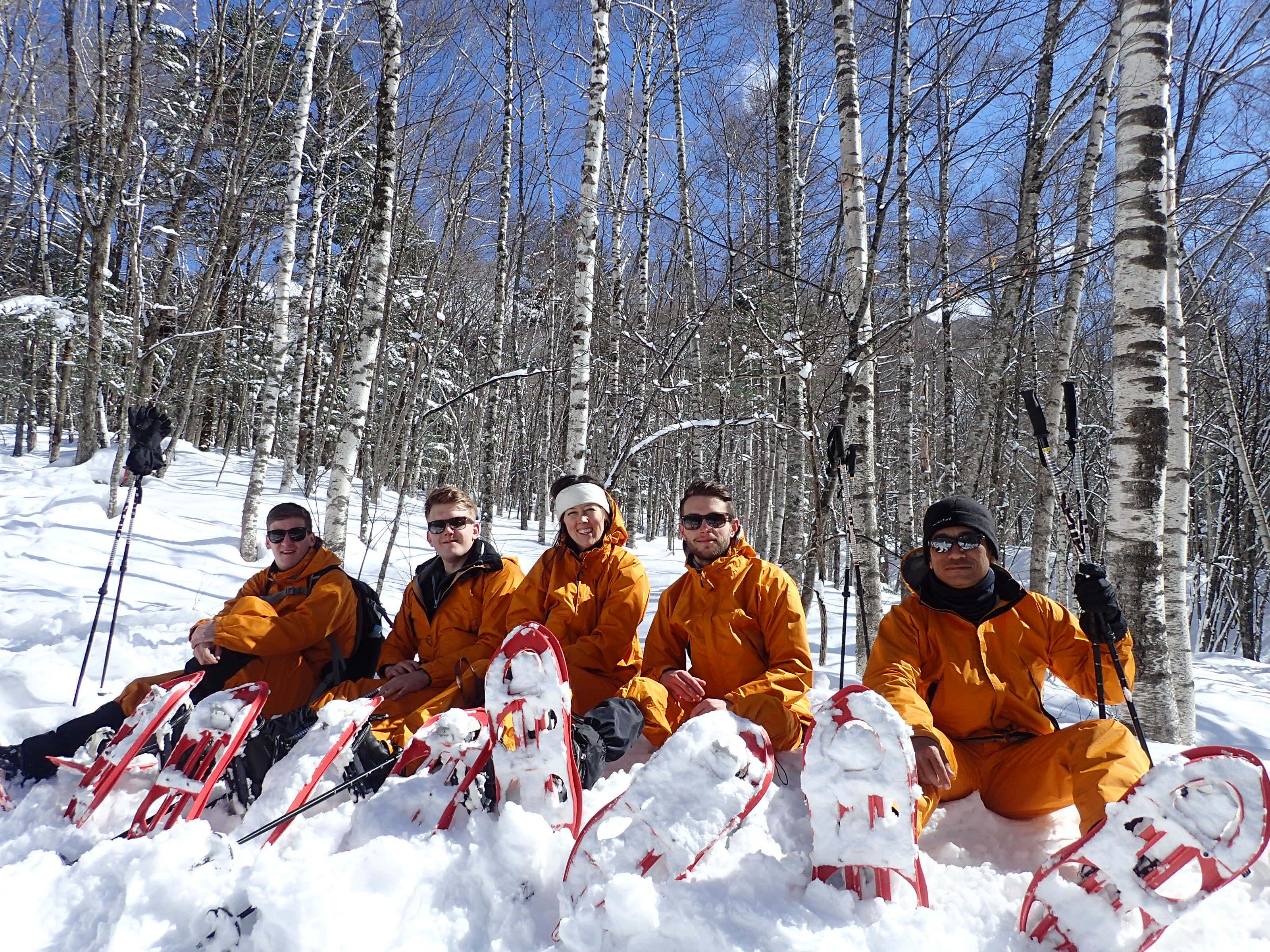 After journeying by cable car with your guide to Nabedairakogen Station, a  pre-tour briefing precedes the start of your snowshoe tour at 11am. Tighten your shoe straps – all the better to keep you anchored in the snow – and immerse your senses in the snow-covered wilderness. Feel the velvety softness of the powder snow beneath your feet. See the tracks of the local wildlife that has visited before you. Listen to the wind whistling through the trees, including Hoba, a Japanese bigleaf magnolia whose enormous leaves are traditionally used both to wrap food, as with hoba sushi and mochi, and also as a wholly natural grill pan to cook hoba miso, meat and vegetables. Yes, these leaves are that strong! Japanese oak is used for firewood and wood from these mountain forests is also used extensively in the construction of Hida's traditional wooden houses. Hida culture never strays far from nature, and our snowshoe tour helps you appreciate that unbreakable link.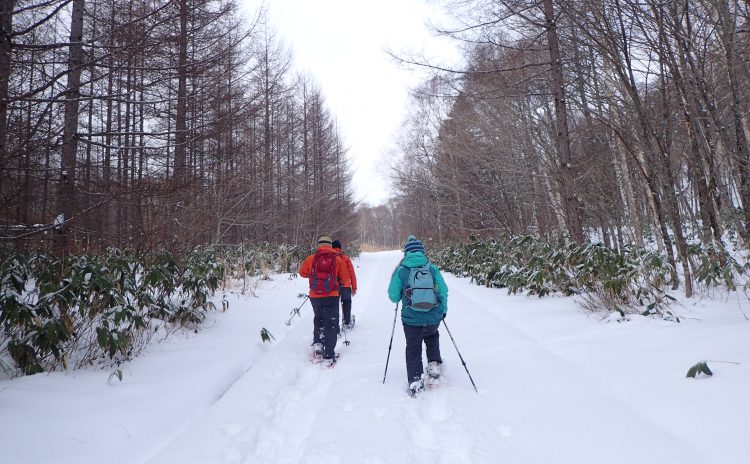 After the guided part of the tour, take the upper cable car to the observation deck at the lofty height of 2150 metres. Here you can experience a truly magnificent panorama of the Japanese Alps, including the third highest mountain in Japan, Mount Okuhodaka, soaring up to 3190 metres, and just 10 metres lower the unmistakeable pinnacle of Mount Yari, translated as 'spear mountain' in English. You will certainly appreciate why it is so named.
Alternatively, or additionally, you may prefer to unwind at some of the most renowned hot springs (onsen) in Japan. Although not included in the tour, there are numerous open air baths readily accessible in the vicinity, where the warm water flows directly from a natural hot spring. One of these is Kamitakara no Yu near Nishihotaka-guchi bus station, costing just 600 yen to enter, and plentiful others are scattered throughout Okuhida Onsengo, readily accessible on foot or by bus from the foot of the cable car and ranging from 600 to 800 yen. Why not take the chance to warm up after your day in the chill mountain air with the most natural warm bath imaginable?
*Having finished the snowshoe tour by 13:00, most of our guests stay on in the Shinhotaka area until taking the bus back to Takayama at around 16:00, taking advantage of the upper cable car ride or experiencing the local hot spring baths. We would recommend taking your time in this natural playground and not to plan long-distance travel straight after this tour.