**Reservation for winter tours 2019-2020 starts from July 2019**
<Booking: A bus package is on sale for travelers from Takayama!>
*If you are joining the tour from Takayama, please book the Bus Package via the link below.
Our two-hour snowshoe tour, taking place in a spectacular area already 1,300 meters high, offers nothing less than the softest snow in Hida. It gives you the opportunity to experience the fantastic views from Shinhotaka Ropeway, not to mention the natural wonders of Chubu-Sangaku National Park, where the tracks of animals like rabbits and antelope will mingle silently with your own. This may be a journey for all seasons, but we think you'll agree that it's best as a snowshoe tour. Beginners welcome!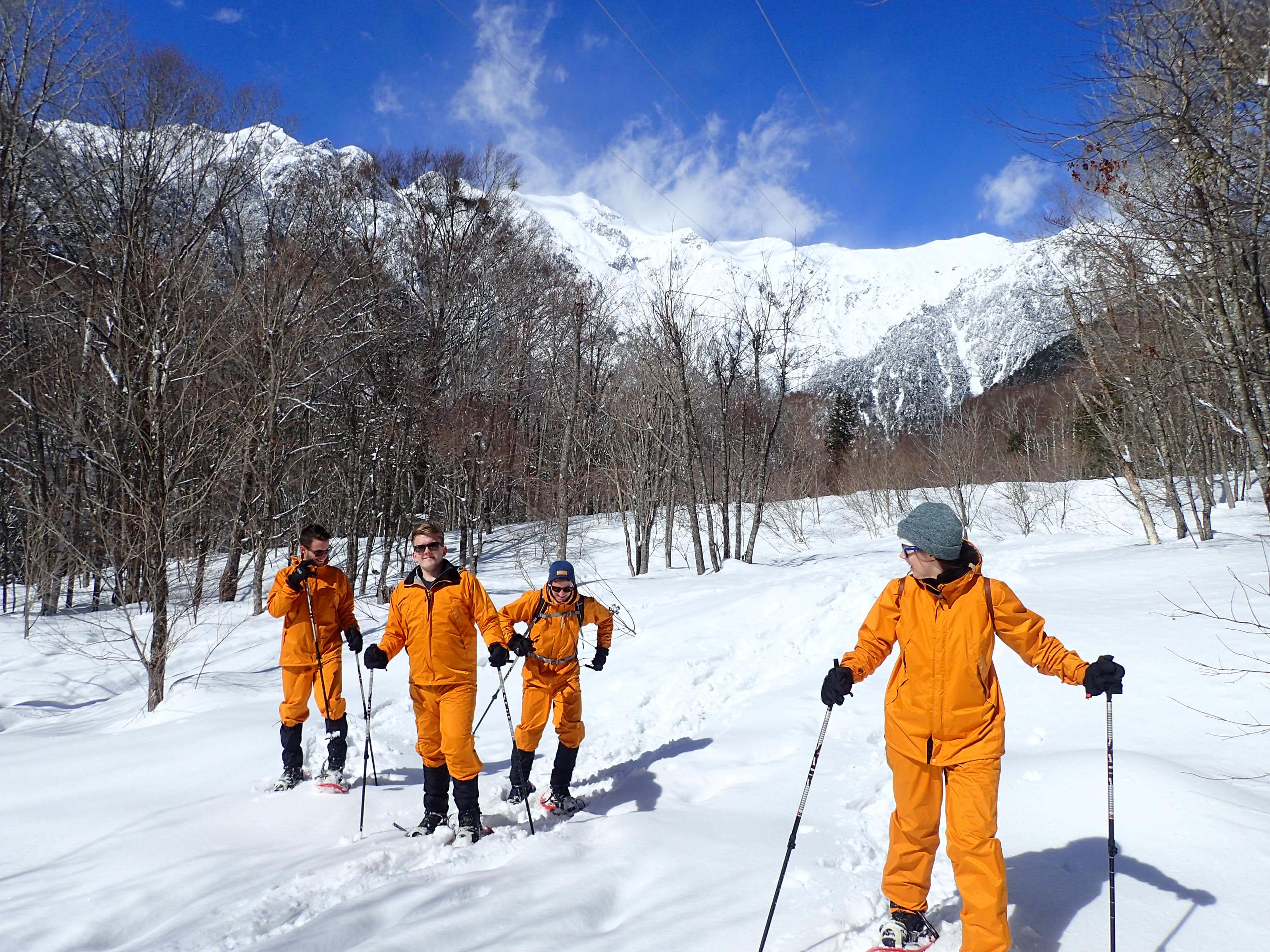 Getting off the ropeway with your guide at the Nabedairakogen Station and have a briefing, your snowshoe tour begins at 11:00. Tighten your shoe straps – all the better to keep you anchored in the snow – and enjoy being in a gondola at an altitude of up to 2,000m, where the gorgeous panorama encompasses the Japan Alps. The one-of-a-kind Ropeway is a double-decker, giving novices and snow-pros alike a view like nowhere else. The scenery from there is captivating whether in spring, summer or fall, where green leaves gradually turn incredible shades of red, yellow and brown – but a gleaming cover of winter snow is truly a sight to see.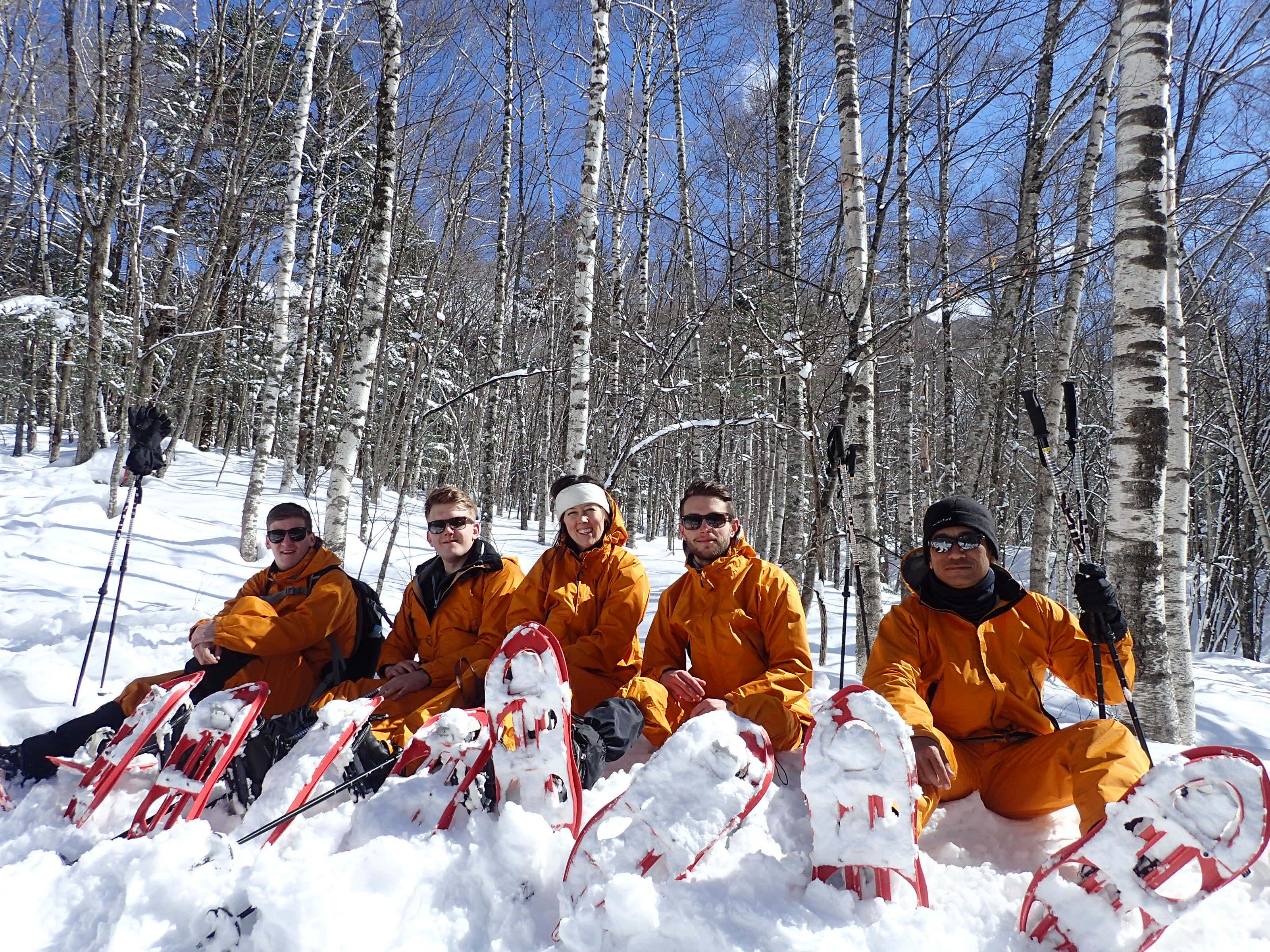 Hike along the natural walking path of Nabedaira Heights, feel the soft powder snow beneath your feet, and experience hills as slides created by nature – wonders that can only happen once a year. Let our guides take you through the forest of this gorgeous national park, where you will see the marks of animals that came before you, and learn about the trees – such as hoba, a kind of Japanese bigleaf magnolia – which is essential for making local food staples like Hoba mochi, Hoba sushi and Hoba miso. Japanese oak is used for firewood, and Hida's traditional homes are also made from Hida-area wood culled from the mountains. This snowshoe tour is a fantastic opportunity to feel once again a deep association and appreciation for nature, one never forgotten by local Hida residents.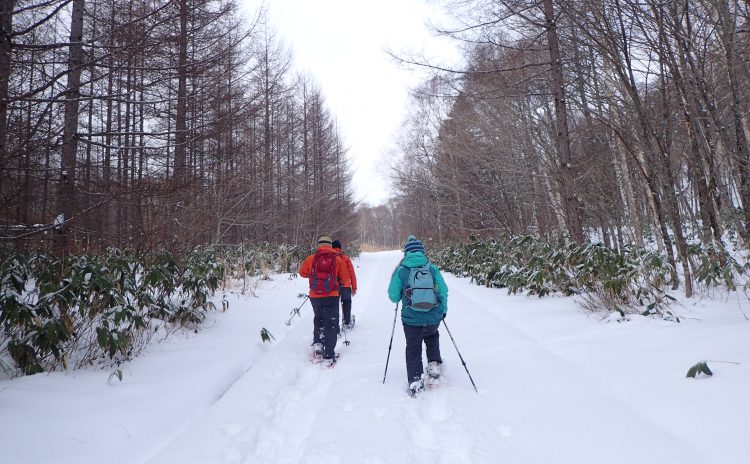 After the tour, use the ticket of the second rope way and you can soak in the view of Northern Alps from the observation deck espeically on a sunny day. Or enjoy the hot springs which is one of the most renowned in Japan. Okuhida Onsengo is famous for its large number of open-air baths of the warm water coming directly from a natural hot-spring, known as "gensen kakenagashi" in Japanese. There is an on8\\sen called Kamitakara no Yu near Nishihotaka-guchi station, and there are many other open-air baths in the area. Although the onsen experience is not included in the tour, buses can take you to some of them – it costs you just 600 yen at Kamitakara no Yu, and 600 – 800 yen at some of the others. After a few hours of snowshoeing it in the fresh and frosty air, an onsen is an especially good way to warm up.
<Booking: A bus package is on sale for travelers from Takayama!>
*If you are joining the tour from Takayama, please book the Bus Package via the link below.
*After finishing the tour by 13:00, most of our guests enjoy staying at Shinhotaka area until around 16:00. We would recommend take your time and not to plan long-distance travel right after this tour schedule.