**Reservation for winter tours 2019-2020 starts from July 2019**
From November until the end of March, making sake is a time-honored tradition in Hida. There are actually 6 sake breweries in the city, and this Takayama sake brewery tour gives you the opportunity to visit one of them. If you're lucky, you may even catch a glimpse the 'toji'—the chief sake brewer and a proud Hida local—work his magic.
After visiting a place where sake is made, you may be inspired to do some creation of your own! Walk through an old street lined with houses and arrive at a cooking studio, where you will learn how to make three kinds of relish—each carefully created using fresh local ingredients. Then savor a variety of delicious 'tapas' appetizers not listed in the local food guide, topped off with some sake made by the toji earlier that day. This tour is wonderful way to partake in the ancient and delicious sake culture of Hida.
Tour Highlights
Funasaka Shuzo
This is the old Takayama sake brewery where your tasty tour begins. Soak in the unique atmosphere on this first step into Hida's proud food culture, and look forward to sampling it later along with tapas.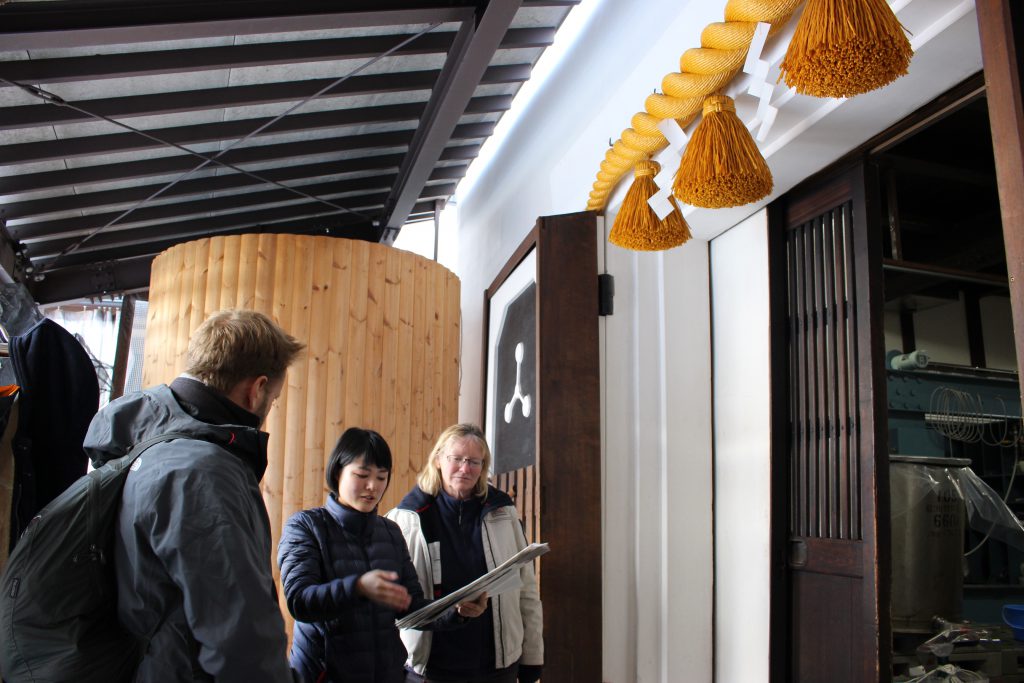 Green Cooking Studio
Opened in 2016, this studio emphasizes local culinary traditions in everything from the ingredients to the special utensils used to cook them. It is even patterned after the ancient residences around it, a fitting tribute to the cycle of life in Hida. Learn, cook and taste here!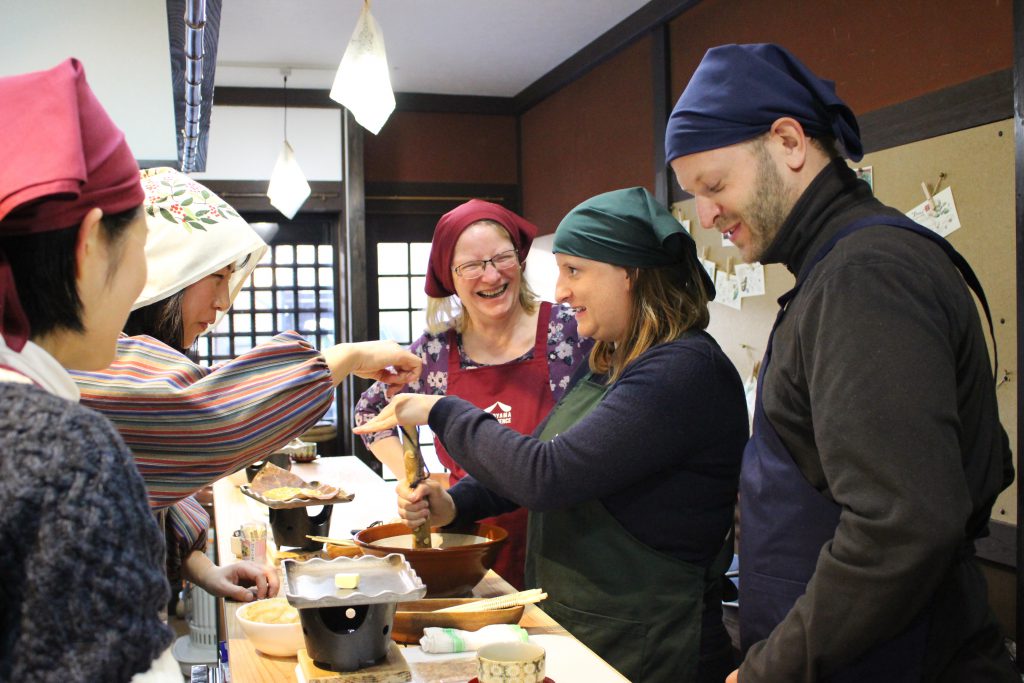 Tapas
Take a break with locally-prized appetizers and sake. Snack on "Tsukemono Steak," a mouth-watering combination of brassica pekinensis (Chinese cabbage), butter and eggs all fried to perfection, thick-cooked komo tofu crackers best enjoyed with cream cheese, sake leaves, and miso, and sweet potatoes dressed with Aburae (Egoma) sauce, a delicious and healthy perilla seed garnish that is indispensable in many local dishes.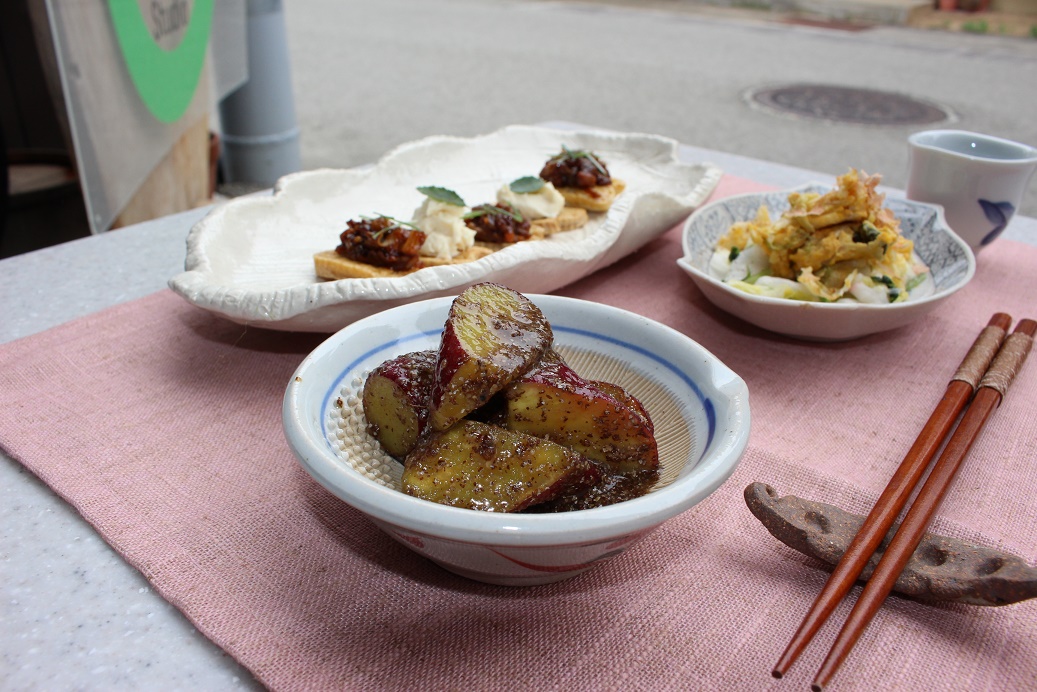 Sake
Finish everything with some fabulous original sake from Funasaka Shuzo, the Takayama sake brewery where you first began your tour. This sake, made with fresh rice harvested just this year, adds a celebratory finish to a great day!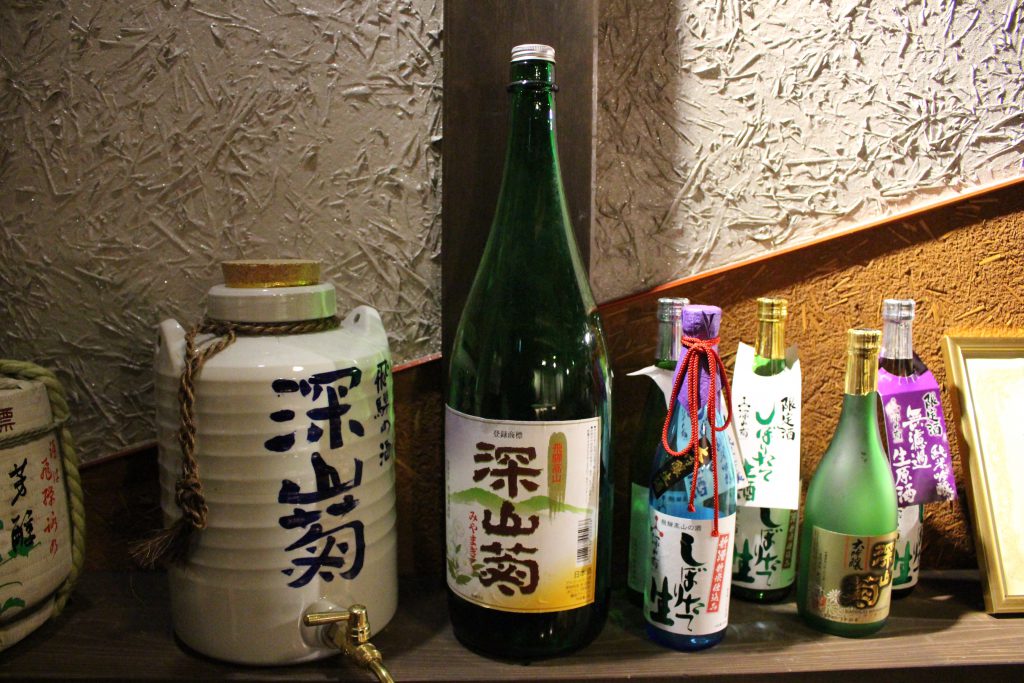 *For a family with small children, we have a family cooking tour (suitable for over 6 years old).
Please send an email to make a reservation!